Bathing a dog at home will save you money on professional grooming expenses, but you'll need a good and highly absorbent dog towel to avoid making a mess in your home. Even the thickest bath towels you bought for yourself cannot absorb all the water in your dog's coat without getting too soaked and dripping.
Most bath towels made for human use are made of cotton. The material can usually absorb whatever is needed off your body after a shower, but due to how much water stays on a dog's fur, the human towel is simply unable to absorb all that liquid. Depending on the dog's size and coat, you may need to use 3-4 normal towels to get all the water out.
The most effective towels for dogs are typically made of microfiber. It's a synthetic yarn material that is ultra-absorbent. Pet towels made from such super-absorbent microfiber can hold more than 5 times their weight in water. We've tested different towels for dogs and picked the seven most absorbent best dog towels for drying dogs after a  bath.
Having a dog towel at home is not essential – you can certainly use your own "human" towels. The disadvantage is that you'll need to use more of them, which may become an inconvenience. Some of the best dog towels below will make your and your dog's bathing process easier and protect the surroundings from being soaked in water.
How to Dry a Dog After a Bath
Drying a dog is not complicated as long as you have the right towel. It's only difficult if you have to keep switching between towels and if your impatient dog won't stand still and/or keeps shaking, spraying water all over the place.
Majority of pet towels for dogs are specifically designed for a dog's coat, fur, and body type. Some of them can be better for a specific size of a dog: small, medium, or large. The good quality dog towel is usually big enough and is made to wrap around a pet's body to prevent the spraying of water all over your house when the dog shakes, a very important part.
Drying a dog may not be as simple as it initially sounds only for owners of medium or large dogs with thick double coats or long furs have learned that lesson. Generally, you dry a dog exactly like you would dry yourself, as long as your towel doesn't interfere.
After you've bathed your dog and you have a pet towel on hand, the process is simple and self-explanatory. The only thing to keep in mind when towel drying dogs is to start strictly at the dog's head and work your way toward your pet's behind. Also, it's crucial that you dry inside your dog's ears because water that stays inside can potentially cause ear infections in dogs.
Top 7 Best Dog Towel Choices for Bathing Dogs
1

The Snuggly Dog Easy Wear Microfiber Dog Towel

Unlike most ordinary dog towel brands that often leave your pet still soaking wet after a good rub, this one from The Snuggly Dog will dry him quickly and easily. It is made of high-quality 400 GSM microfiber material, just the right weight, and thickness for a hardworking towel. It comes with a wrap-around belt, adjustable neck toggle, and button to secure around the tail.
This best dog towel can also double as a warm posh wrap, which dogs can wear until they're totally dry. It is offered in two colors (red and blue) and four sizes (small, medium, large, and X-large). Customers feel that they just found the best dog towel for their pets. They say that the towel is very soft and can absorb tons of water.
Consumers simply love the versatility of the product because it functions as a  towel, dog robe, and cover for surfaces like the car seat when your dog is still not totally dry. When used as a wrap, The Snuggly Dog Easy Wear Microfiber Dog Towel stays securely on the animal and saves the owner from having to worry about wet floors and furniture. Pet owners who purchased this product can't help but recommend it to every pet owner.
One reviewer really liked the towel but was quite disappointed that the X-large size is a tad short for one of her bigger breeds. She suggests that larger sizes also be made available. Overall, buyers were extremely happy with a towel that truly dries, and one that can be worn as a wraparound.
PROS

:

Made of high-quality 400 GSM microfiber material
Equipped with a wrap-around belt, adjustable neck toggle, and button to secure around the tail
Offered in 4 sizes and 2 colors

CONS

:

May not be suitable for extra-large breeds
2

Soggy Doggy Super Shammy Dog Towel, Pockets
by Soggy Doggy Productions

As the name Super Shammy implies, this best dog towel works great. It is much like those synthetic chamois sponges used to clean cars, except this towel is seven times more absorbent. This product from Soggy Doggy works like a giant sponge because it's made from countless textured strands of chenille fabric woven together.
A unique feature is the added hand pockets that make it easy to dry the face and ears, around the belly, and other hard-to-reach areas of a wriggly pet. This quick-drying towel is machine washable. It comes in one color and size (31 inches long by 14 inches wide).
Customers say that this best dog towel not only dries soggy dogs, it also cleans them up. They found it very handy in wiping off muddy paws and dirty fur, especially after a romp in the outdoors. Dogs are also not averse to the Soggy Doggy Super Shammy Microfiber Chenille Dog Towel with Hand Pockets. One pet owner says that her dog would sit obediently for the wiping, while another thinks that her four dogs look forward to a good cleaning with the Shammy when they reach home after a day's frolicking.
Another buyer, though, says that her Super Shammy towel stinks with a mildew smell. Any towel, though, needs to be washed right away if soiled and allowed to dry to prevent mildew from forming. Most buyers, however, had no problem with smell or mildew, and they believe that this is the best dog towel they've ever had. The sturdily stitched strands simply work great for their dogs – cleaning off dirt and really absorbing water.
PROS

:

Made from countless textured strands of chenille fabric woven together
Machine washable
Convenient hand pockets make it easy to dry hard to reach places

CONS

:

Tiny mildew smell developed after a while on the towel
3

Top Performance Microfiber Pet Towel for Dogs
by Top Performance

This microfiber towel from Top Performance absorbs moisture and dirt more efficiently than regular cotton towels do. It is machine washable and fast-drying. The pack comes in lovely colors of pink, blue, and purple.
Each microfiber towel measuring 36 inches long and 24 inches wide (a 48" size is also available separately). Customers who have previously bought the smaller sizes before were very happy to find the new pack much improved in terms of size. These new towels now are much more useful for the larger breeds.
Reviewers agree that the towels are highly absorbent, which is beneficial both for the dog and the surfaces in their surroundings. Some buyers were so impressed by the softness, density, and absorbing quality of the Top Performance Microfiber Pet Towel that they bought extra packs for their personal use.
A few customers compared these to another brand of towel that they previously had and said that the Top Performance towels are not as absorbent as those. They do like the durability, color, and larger size of these towels. Buyers agree, too, that this product is well-priced considering that the pack includes three full-sized towels. Some pet towels are not as effective when brand-new, but they usually get better after several wash/dry cycles.
PROS

:

Machine washable
Quick-drying
Each towel measures 36 inches long and 24 inches wide, and a 48-inch size is also available

CONS

:

Not as absorbent as other pet towels we have tried but still good
4

Bone Dry DII Ultra-Absorbent Microfiber Dog Towel
by Bone Dry

Bone Dry's microfiber pet towels provide durability, convenience, and versatility. They are made of soft and fast-absorbing fabrics to provide warmth and comfort to your dog after baths or daily grooming. They can also be used as pet blankets inside a kennel or crate, or during car rides, or on long trips and outings.
The towel measures 44" x 27" and is available in seven elegant colors, each with a daintily embroidered paw print or bone design. They're great for pet drying and easy to clean – just toss it in the washing machine and spin dry, and they're ready to go for the next grooming.
Satisfied customers like most that these towels are lightweight, yet dense. They are also especially impressed at how this little towel sucks in water, not unlike a sponge. The DII Bone Dry Ultra-Absorbent Microfiber – Pet Mitts and Pet Towel proved to be very effective for so many varied purposes that most of the buyers even bought extras.
One reviewer noted that she couldn't see any significant difference between this towel and her standard ones in terms of their capacity to absorb water effectively. Those who have been using this brand for quite a while say that it is comparable to superior towels, and it is very durable and does not easily fray on the edges. All these good qualities it retains for a very long time.
PROS

:

Can be used as a towel or a blanket for your pet's kennel
Measures 44" x 27"
Available in 7 colors
Machine washable and dryable

CONS

:

This pet towel is no more absorbent than the other cotton towels we've tried yet more expensive
5

KinHwa Dog Towel Super Absorbent Microfiber Dog Drying Towel 

This soft towel is made of absorbent microfiber. It's quick-drying and lightweight, so you can travel with it. It's also machine washable, so you can easily get rid of any lingering dog smells.
The absorbent microfiber pet blanket is available in various colors and is perfect for your pet's travel or nap. It offers a crafted absorbent microfiber pet blanket with a cute and adorable paw print design that is soft to the touch. It immediately absorbs any slop, splash, or spill.
This towel can used not only during bath time but also when Fido is in the pool, on rainy days, grooming or travelling, keeping your dog warm, cozy, and comfortable.
There are some user reviews claiming it works perfectly for small dogs, while it doesn't absorb well enough for large dogs. There is also one user saying their dog chewed holes in it, so they didn't get the value out of it. But of course, more users were happy with the product. They said that this towel is even as soft and luxurious as the ones we use.
PROS

:

Large enough to fit all pets in different breeds and sizes
Quickly dry off
Lightweight and easy to care of
Could be used as a blanket on cold nights

CONS

:

Not very good for very thick fur
6

Luv & Emma's Dry Pets (patented) Super Absorbent Microfiber Pet Towel
Previously – that is before I set out to do this review to find the best dog towel – Samantha has been using a combination of several regular bath towels, but they could never hold enough water, especially from my Labrador. This Dry Pets towel from Luv & Emma's was one of the first she tested, and it honestly was a surprise.
Luv & Emma's Dry Pets Towel has a soft, very absorbent microfiber and the stitching is clearly strong to allow you to really dig into your pet's coat. As you can observe in the video below, there are two sizes of pet towels offered by Luv & Emma's: Dry Pets size is their smallest size and it measures 21 X 17 inches. It holds up to 12 ounces of water, which is plenty for a lot of dogs of medium to small size.
Their bigger size – Dry Pets Plus – is much larger and measures at 36 X 23 inches. This is the one that has been used for the best dog towel review, and it certainly was big enough to absorb everything off the dog. Dry Pets Plus pet towel holds up to 25 ounces of water, which will be enough for pretty much any dog unless you have a bear, but it still wasn't as absorbent as some of those pet towels for dogs mentioned above.
Samantha has two large dogs, and it's not difficult to picture the amount of water that comes off of them after a full-on bathing session. If you watch the video or read the full review of Luv & Emma's pet towel, you can see that she used to have to use one bath towel per dog to dry them off completely. Even though the towel is big and works well, for the same price you could get the best dog towel mentioned above, which is far more effective.
PROS

:

Holds a lot of water
Made of soft microfiber with strong stitching
Conveniently hangs on virtually any doorknob
Dries quickly

CONS

:

More expensive than some other good dog towels with the same level of absorption
7

Territory Adventure Collection Pet Pocket Towel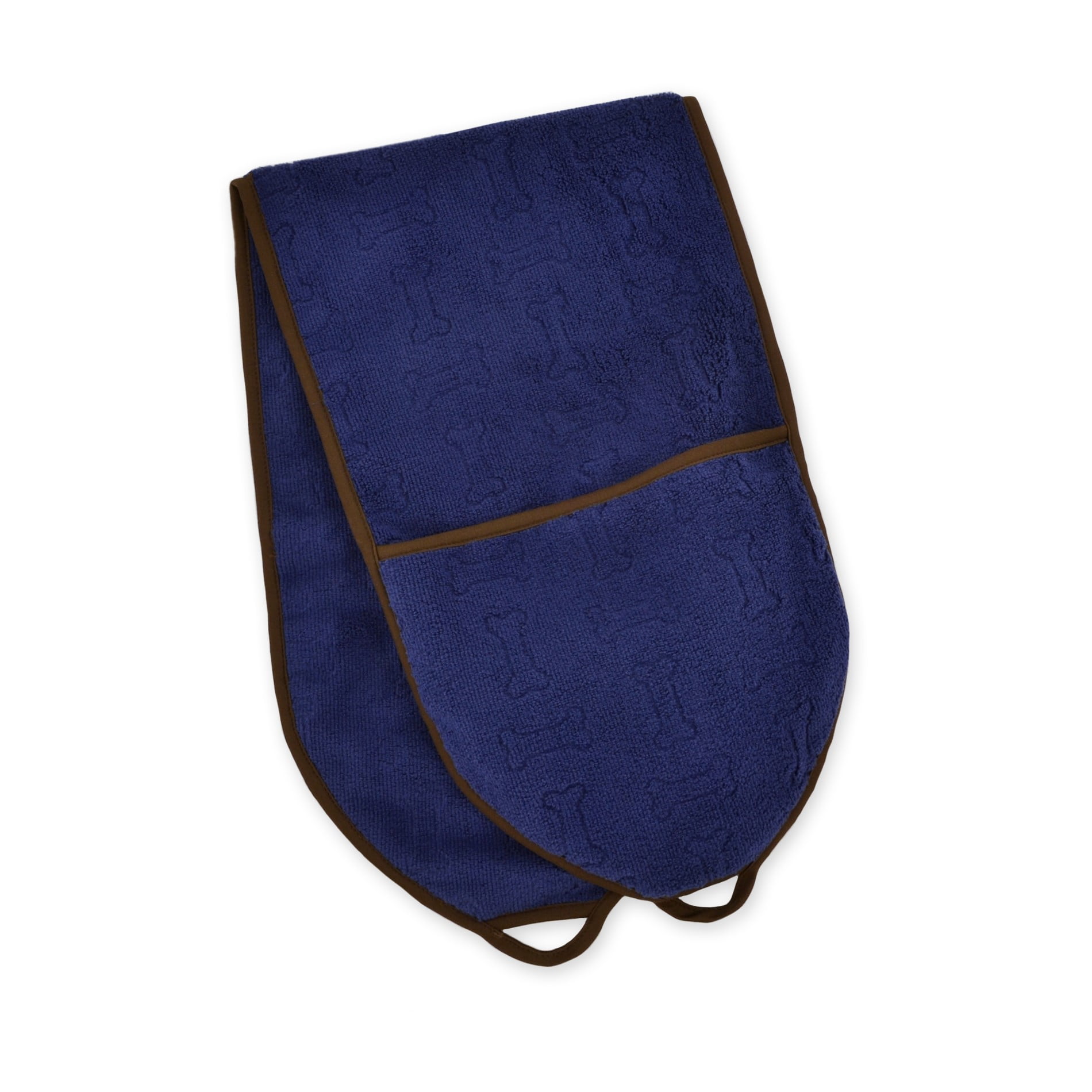 Finally, our last one of the best dog towels is slightly smaller. It comes from a company called Territory, and the towel itself is considered a small pet towel for dogs (the reason it's named "pocket towel" is not because of the size; read further).
It measures only 10 inches wide and 36 inches long, so it's definitely made only for small and barely for medium dog breeds. Quite honestly, Samantha was disappointed to see that this is the only size that this dog towel comes in.
Territory Pocket Pet Towel itself is definitely well-made: you can feel the quality of the towel by touching it, and it's made with a terry fiber material. Company Original Territory states that it is 50% more absorbent than cotton, but we're unsure how true this is since there's no way to confirm for sure. This pocket pet towel is machine washable and dryable like most other best dog towels, so no surprise there.
Another good thing about this pet towel is that it has a very unusual design. For example, there are large pockets on either end of this pet towel, hence the name – Pocket Pet Towel – so you can slide your hands into these pockets. You might be surprised to learn that these pockets in the towel are actually very convenient and allow you to dry a dog much easier and quicker after a good bathing session.
When doing the best dog towel review, Samantha was also pleased with the small loops sewn onto each end of the Original Territory Pet Pocket Towel. This allows you to hang the dog towel on any hooks in your bathroom, onto a doorknob, or wherever else you bathe your dog. The material of the towel dries quickly, especially when hung, so it's best to keep it hanging on some doors on rainy days to dry the dogs as they come into the house.
This towel is only available in two colors – brown and navy and is yet to garner any reviews from other pet owners. The company is also pretty new on Amazon, so they are building out their clientele of regular customers. Their Pocket Pet Towel has an adorable dog bone design that will set it apart from your regular towels for people in your house, that way you don't mix them up. Finally, is also one of the most affordable best dog towels on this list.
PROS

:

Most affordable pet towel
Absorbent enough
Convenient design that includes pockets
Ideal for travel and hiking
Available in two colors

CONS

:
---
Disclosure: We may earn affiliate commissions at no cost to you from the links on this page. This did not affect our assessment of products. Read more here and find full disclosure here.
Want to share this?