Although dogs have always played their role well as man's best friend, sometimes, they trouble us without fail. Some may also disturb us by pooping on someone else's lawn or harassing others' pets. 
Thus, when this happens, owners seek ways to prevent dogs from doing such an act. 
Some common preventions are shooing them away using a slight gesture with their hands or using a random item close at hand.
However, most people find it more convenient to keep at least one natural dog repellent in their pockets.
But what's a natural dog repellent, and what does it do?
Why "Natural" Dog Repellent? 
When we talk about "repellents," we would often think about the smell of citronella, citrus, and essential oils.
However, there are several repellents in the market, and one of them is dog repellents.
Although used in different ways, dog repellents are primarily an invisible barrier to keep dogs away from a specific area or property, such as your kitchen or lawn. 
But what's the difference between natural or homemade dog repellents and chemical dog repellents? Isn't the latter more effective? 
If you're the type of owner who tends to be clumsy and reckless with chemical products, then I highly suggest you not use one. 
Generally, the main reason why experts discourage using chemical repellents is that they can be dangerous and also even life-threatening to your pets. That's why you have to be extra careful when using them.
Common Ingredients Used For Creating Natural Dog Repellent Sprays
Suppose you prefer making homemade products to purchasing one from the mall. Then, fret no more because we got you. 
Below is a list of ingredients usually used in making natural dog repellents. In this case, they are not only proven to be safe but also effective. 
Natural Dog Repellent #1: Citronella Oil
The scent of citronella is a smell that may counteract any dog due to its sharp, acidic odor. Even the most mischievous dogs don't like them.
If you're planning to use citronella oil as one of your main ingredients, dilute it first to avoid accidentally poisoning you, your plants, and your dogs. 
To achieve that, mix 24 teaspoons of citronella oil with two pints of water and put it in a spray bottle or a separate sprinkler afterward. You can use the diluted citronella immediately. 
You may or may add other ingredients to your citronella spray to make it more effective. But bear in mind to use the mixture moderately and with caution.
Natural Dog Repellent #2: Citrus Fruits
Dogs loathe the scent of any citrus fruit, so owners usually use the peels of oranges, lemon, or even grapefruit to make repellents. You may also use the extracts of the fruits themselves for maximum effect.
To do this, you can create a concoction of any citrus fruit and mix it with water. It depends on you what citrus fruits and how many of them you'd like to use. 
Or soak the peels of the citrus fruits in ½ cup of water and mix it with two tablespoons of vinegar. Leave them overnight before straining the solids away.  
A more convenient way of repelling dogs is by placing the fruit peels within the area they're likely to go. As soon as they catch the scent of the peels, you may expect them to scurry away to cleanse their noses.
Using the latter method won't just chase your dogs away but also save the Earth since the fruit peels are biodegradable.
Natural Dog Repellent #3: Essential Oils
If you don't have citrus fruits lying around your kitchen, you may use essential oil with a similar scent to create a natural dog deterrent. 
Not only can you deter a dog from trespassing, but it can also freshen up the area where they usually go.
Natural Dog Repellent #4: Vinegar and Apple Cider Vinegar
Not only do dogs hate the smell of citrus, but they also dislike the stinging scent of vinegar. 
Two of their unfavored variety of vinegar are apple cider vinegar and plain white vinegar. These two have a solid sour smell, especially when combined with lime juice. 
To use them, create a ratio of 50:50 water and vinegar of your choice. Put the mixture in a spray bottle, and use.
Or you can also soak the said mixture on a couple of cotton balls and place them in the same places you don't want your pets to be.
Natural Dog Repellent #5: Mustard Oils
Mustard oil is another repellent that you may spray over your yard to deter dogs and other animals from stepping on them.
Use this with a water mixture and spray the solution on areas you don't want any dogs nearby.
Natural Dog Repellent #6: Coffee Grounds
Have you tried using your coffee grounds to shoo trespassing dogs away from your yard?
Weird, right? But you can also use them by sprinkling them all over the chosen area.
Coffee grounds are proven effective since dogs also loathe the smell of their bitter aroma.
Thus, try using this method, and you'll be surprised by its effects. 
Natural Dog Repellent #7: Garlic
You can also create a natural dog repellent from the garlic's pungent smell and taste.
To do this, you may thus mix your crushed garlic with chili powder, chopped onion, and a small amount of dish soap onto warm water. 
Let it sit for at least 24 hours, and ta-dah. Your natural dog repellent is ready. 
Natural Dog Repellent #8: Chili or Cayenne Peppers
Peppers or Capsicum may also serve as a repellent to dogs due to the burning sensation that it leaves. 
To prepare this, first, you must chop peppers, then mix them with oil instead of water. The scent of the peppers will cling to the oil better than the water. 
Lastly, put the mixture in a spray bottle carefully before spraying over the problem areas.
Remember to handle this ingredient with care because it may be potentially unsafe for you and your pets.
Natural Dog Repellent #9: Ammonia 
Due to its strong, pungent smell, ammonia can also be effective as a repelling ingredient.
To use this, you may put ammonia on cotton balls and place them on the areas you don't want your dogs to be. You can also mix a cup of ammonia with a cup of water, and you're good to go.
Furthermore, if you're planning to mix your ammonia with vinegar, I suggest you not. The two ingredients will thus cancel out each other's properties, leaving you with a less effective saltwater mix.
Please be careful in handling this chemical since this chemical is highly toxic for you and your dog.
Natural Dog Repellent #10: Rubbing Alcohol
Rubbing alcohol, usually isopropyl, is a strong deterrent that any canine would want to avoid. 
Apply a decent amount of isopropyl on cotton balls. Then proceed on placing them over the areas your dog likes to cause havoc on. 
Besides isopropyl, you can also use ethyl alcohol for this method. 
Equipment You Can Use To Repel Dogs Away From Your Property?
Besides the ingredients mentioned above, you may also use other deterrents that don't involve mixing or spraying. 
The following section lists pieces of equipment used to prevent dogs from getting into your yard or property. 
1. Fences 
Erecting fences is the safest and secure way of preventing any animal from entering your premises. Depending on your preference, it may be visible or invisible, high or low, thick or thin. 
Not only do you avoid animals trespassing in your area, but it also brings extra security and comfort for you. The fences must be restrictive enough to prevent curious canines from running around.
2. Garden and Lawn Sprinklers
Garden and yard sprinklers are also more effective than handheld spraying devices. It is due to their automatic sprinkler system that can detect any continuous motion. 
In this case, you can install this type of equipment near your fence, trees, or yard itself. You only need to attach your garden hose to it, and it will do the rest for you. 3. Yard Gard
Yard Gard is also a safe and effective way of deterring dogs. They get installed the same way as garden and yard sprinklers, but the difference is they emit sound waves.
Due to the product's high frequency, these sound waves are offensive and loud to dogs, especially those with sharp ears. At sufficient volumes, the gadget emits frequencies above 25,000 Hz, which chases your dogs away effectively.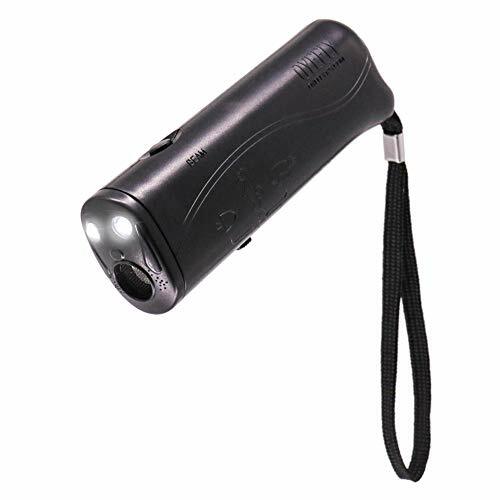 4. Ultrasonic Dog Deterrents
If there is something that you also might want to use without breaking a sweat, the ultrasonic dog deterrent is the equipment fit for you. 
This product works the same as Yard Gard. But unlike the latter, you can use it handheld and with a single press of a button. 
5. Pressure Washer
Did you know that you may also utilize the pressure washer that you have at home? If the dog is ruining your lawn nearby, thus proceed to spray the pressure washer towards them to intimidate them.
It would be best if you don't hit them directly because this may cause injury, but the reason for usage is to let them know the area's off-limits.

Natural Dog Repellent Spray Products That You 
Although making natural dog repellent sprays at home saves us more money, most of us don't have the time and privilege to do it.
Here is a list of our favorite products that we suggest you check out.
1. EverJoice Dog Not Here Spray
This spray is definitely worth the hype. 
It's an anti-bacterial spray made of citrus extract, lemon essential oil, and also deionized water. 
Since it has a pleasant citrus smell that most dogs dislike, you can expect your pets to deter the areas where you sprayed this product.
You may use them not just as a repellent but also for dog training. EverJoice Dog Not Here Spray also works outdoors and is safe for spraying plants, shrubs, and grass.
2. Bodhi Dog Not Here! Spray
Bodhi Dog Not Here! The spray is a dog repellent product that claims to be safe and cruelty-free. 
It is primarily a mixture of purified water, vegetable-derived glycerin, sodium lauryl sulfate, clove oil, peppermint oil, thyme oil and also contains natural preservatives.
The fragrance of this product is clove and peppermint that most dogs dislike. Although this spray has a pungent smell at first, it eventually dissipates as time passes.
3. ANGRY ORANGE Pet Odor Eliminator
Angry Orange Pet Odor Eliminator is also a dog repellent that uses fresh orange peels as its main ingredient. 
Aside from working as a repellent, this citrusy product also removes all traces of lingering pet smells or foul odor lingering around your house or lawn.
4. Repels-All Animal Repellent Concentrate
Not only is this product effective in deterring canines, but they're also suitable for repelling other animals that may prance around you. 
Its main ingredients are garlic, dried blood, whole egg solids, and clove. It also contains fish oil, onion, and wintergreen.
It's a product you may also use for the whole year, whatever climate or season you are on. And it's easy to use too.
5. NaturVet – Off Limits Training Spray
If you want any animal to stop trespassing and digging into your yard, you may also use NaturVet Off Limits Training Spray as their repellent. 
The active ingredients of this product are clove extract, garlic extract, and Thyme oil. It also has glycerine, lime, purified water, and sodium lauryl sulfate. 
To use, spray the deterrent all over the area that would likely dig on, and you'll never see them digging or pawing from then on.
Conclusion
When using natural dog repellent sprays, the main thing that you must remember is to avoid spraying it directly on the canine.
The main point of using natural dog repellents is to deter dogs and other animals from creating havoc in your area. Regardless of using repellents for several reasons, it doesn't give you the right to injure or harm them.
Thus, it would be best to inform yourself how to get them out of your property or area without actually harming them.
Remember, dogs might not show that they're in pain, but they can feel hurt too. 
WANT TO SHARE THIS?
---
Disclosure: We may earn affiliate commissions at no cost to you from the links on this page. This did not affect our assessment of products. Read more here and find full disclosure here.